June 19 – 25 Cancer Leo Cusp. Flamboyant Force Meets Sympathetic Soul.
Happy Birthday Cuspy Critter!
Cancer is ruled by the Moon and Leo by the Sun.
The Sun is, of course, a star, not a planet. But what a significant star! Leos do tend to be known for their radiance and star like qualities, not to mention relishing being the centre of attention:) The moon is no less of a key player in terms of its overarching impact on us — its gravitational pull and lunar cycles affect everything from the tides to our moods.
Leo's ruling element is fire and Cancer's is water — what a contrast. Rather than thinking that the water puts out the fire, why not embrace that sizzling steam and the alchemical transformation it implies?

Between the influence of the dramatic lion, and the sensitivity of the Cancerian moon, — you are generous, authoritative, commanding and yet warm and fuzzy.
A sympathetic star. Leos also enjoy being pampered, and Cancers do like their creature comforts, so you might excel at creating a nurturing and stunning living space for yourself.
Channel your inner lion / lioness fierceness, courage and use your Cancerian empathy to lead and shine your light with grace. Show us the way baby!
==============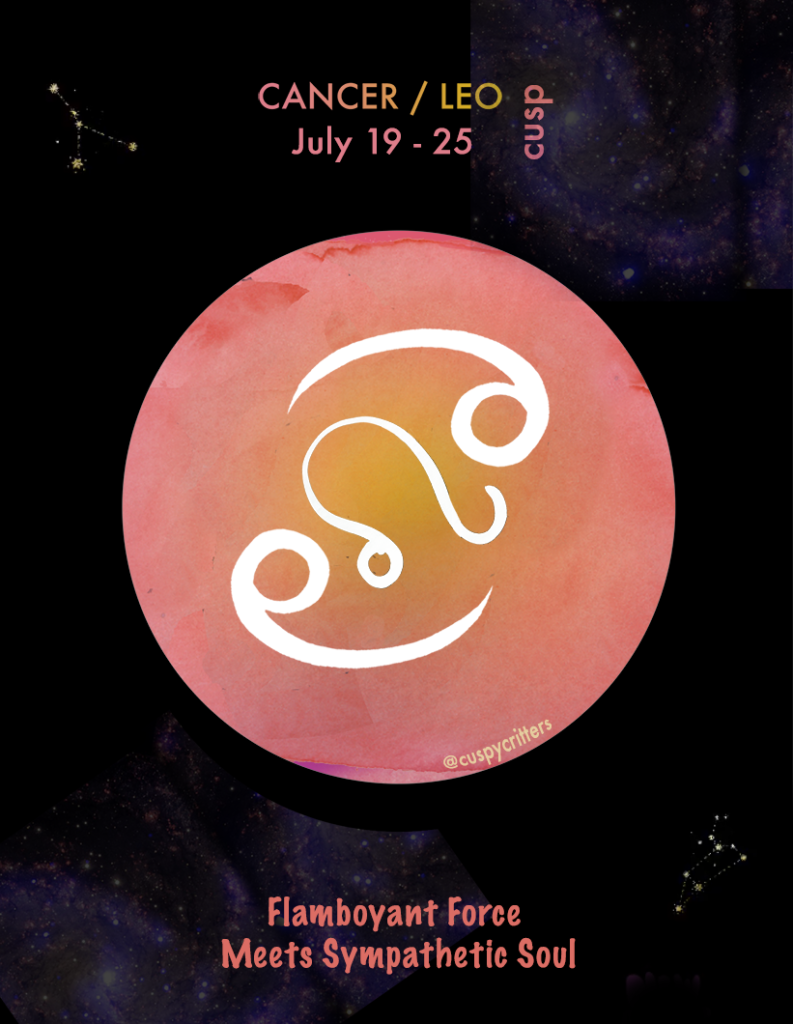 Cancer > Fly Me to the Moon ….In Other Words, Darling Kiss Me…
Leo > Let that Lucky Ol' Sun Just Roll Around Heaven All Day…
Disclaimer: As always, planets are really only in one place at one time (unless of course you consider quantum mechanics and parallel universes:), so your sun sign really is in only either ~29 degrees Cancer or ~0 degrees Leo. But us cuspies know that we can feel the influence of the other ruling planet. We believe a few days either side of the switch (which BTW shifts every year and depends on where in the world you decided to bust into this planet) feels about right. You decide your own truth!