June 18 – 24 Gemini / Cancer Cusp. Sassy Socialite Meets Sensitive Soul.
Happy Birthday Cuspy Critter!
Gemini is ruled by Mercury and Cancer by the Moon.
Mercury was named after the Ancient Roman god of messengers. Mercury rules over communication (hello Mercury retrograde*), travel, chance, commerce and, bonus, he got to escort the dead to the underworld. The hunter goddess Artemis is associated with the moon. The moon has a tremendous influence on us, on the planet — its gravitational pull and lunar cycles affecting the tides, our own emotional and physical equilibrium.
Between that speedy mercurial energy and the subconscious drama of the moon, you've got the true aim of the hunter with the diplomacy to deliver your message with grace. Your Cancerian moon gives you heightened sensitivity — you can tune in deep to your friends, your dreams and your visions. This helps temper the impulsive nature of your Gemini twin aspect.
You are likely a great conversationalist, and also an excellent listener. You might appear to be more extroverted than your soul really feels. Although you enjoy a cocktail party, you do like to curl up in your shell now and then. Fair warning to anyone who interrupts that down time. They might be surprised by your quick snap, even though in general you are warm, compassionate and nurturing. Balance that vulnerable side with your lighthearted wit and you can be the hostess with the mostest.
There's an extra special element being born close to the Summer Solstice. Allow yourself time to reflect upon the opportunity that the longest day of light offers.
*Mercury retrograde is on right now, so back up your hard drive. Likely you don't have to worry about travel plans, but if you do, give yourself lots of time and triple check the details.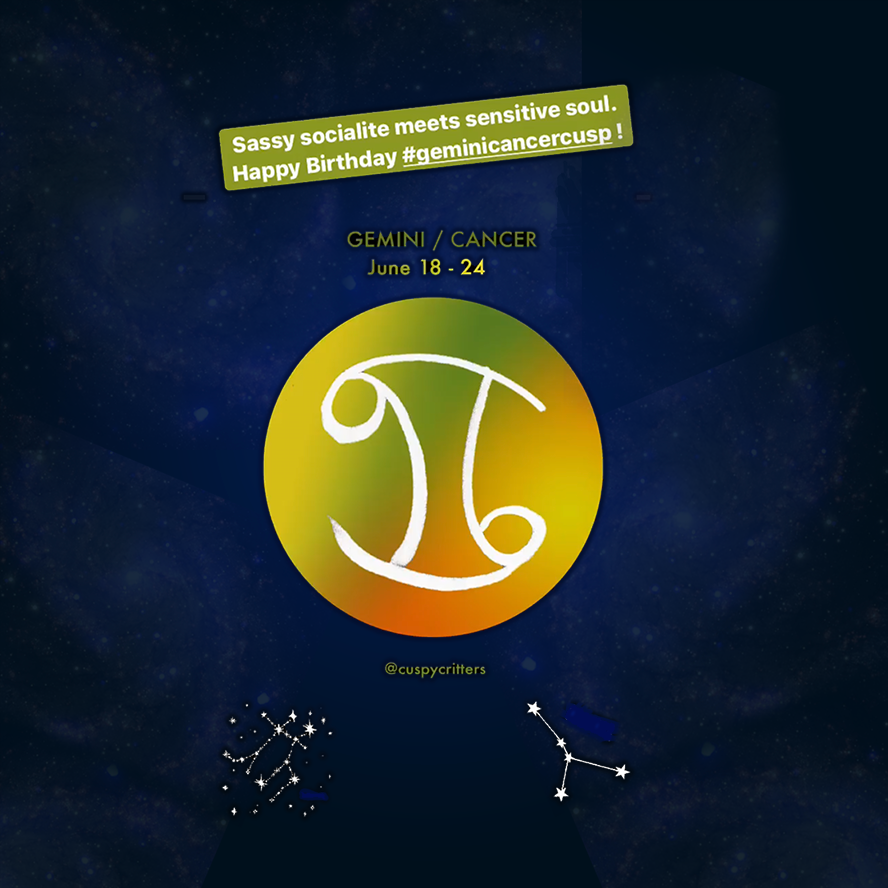 Disclaimer: As always, planets are really only in one place at one time (unless of course you consider quantum mechanics and parallel universes:), so your sun sign truly is in only either 29 degrees Gemini or 1 degree Cancer. But us cuspies know that we can feel the influence of the other ruling planet. We believe a few days either side of the switch (which BTW shifts every year and depends on where in the world you decided to bust into this planet) feels about right. You get to decide what feels right for you!