March 17th – March 23rd
Powerful Warrior Meets Dreamy Psychic.
Happy B-Day Pisces / Aries Cuspy Critters!

Pisces is ruled by Neptune and Jupiter, Aries by Mars
Neptune was named after the Roman God of the Sea — that deep blue space of empathy, psychic powers and mysterious imagination.
Jupiter — a bit like that lucky old sun, as the song goes, rolls around heaven all day. Expansion and prosperity are its commonly touted properties.
In itself there is already a duality on the go. Place Mars, the infamous warrior into the mix…
The God of War is all about action, energy and desire. I like to think of this as a tempestuous, stubborn and sexy force.
Also, in Roman mythology Mars was the son of Jupiter.
Is there is a familiar story playing out — being a rebellious child of such an illustrious Dad, wanting to carve out your own turf?
So what do you get when you are born on the cusp of Spring?
Pisces is the last sign of the zodiac and Aries is the first. You wave a slightly tearful ta ta to Winter and beckon Spring with gusto.
You've got big deep blue sea dreams — don't forget that the oceans covers 71% of the Earth's surface. That's a lot of space to dream. You've got the brash forward rushing energy of Aries, tempered by that deep blue sea vision and sensitivity.
Your Pisces side lets you pull back a bit on that warrior impulse and your Aries side lets you stand up to that rude bully who tries to cut in front of you in the lineup. You will say it with grace though, and so they'll likely fall sheepishly back in line, rather than want to pick a fight with you:) One caveat to this dance of opposites – Pisces is a water sign and Aries a Fire sign, be sure to channel the energy of both of them, without cancelling each other out.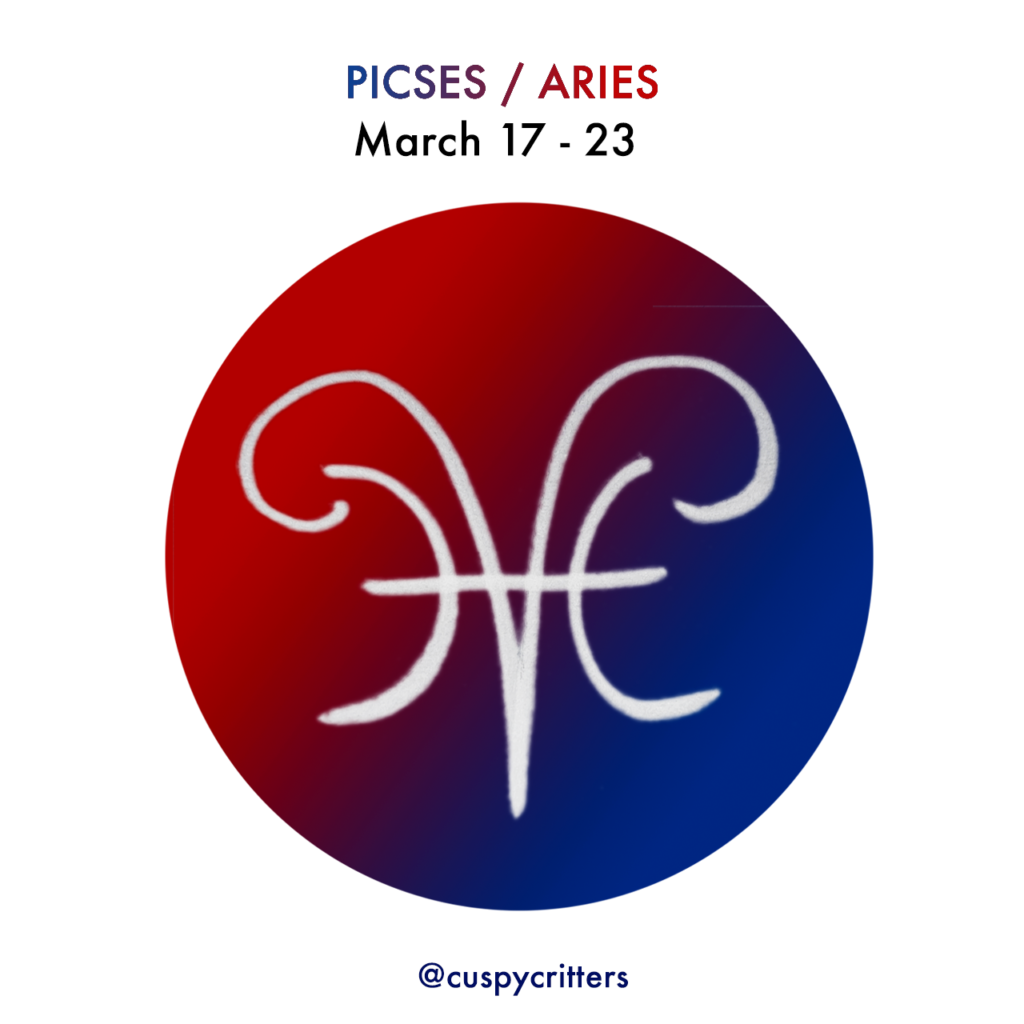 Universal Disclaimer: As always, planets are really only in one place at one time (unless of course you consider quantum mechanics and parallel universes:), so your sun sign really is in only either say 29 degrees Pisces or 1 degrees Aries. You get to choose what's true for you.